Aristarkh Lentulov (1882–1943)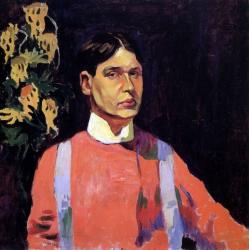 Self-Portrait in Red
1913
Oil on canvas. 83 x 83

Sometimes known as Self-Portrait in Red, this is one of Aristarkh Lentulov's early works. Painted during his tense quests for his own personal style, Self-Portrait in Red embodies the colour expression that later became one of the distinguishing features of Lentulov's art. The artist himself regarded Self- Portrait in Red as one of his first landmark paintings.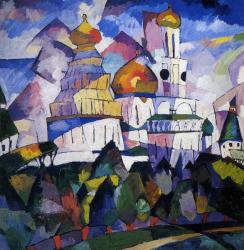 Churches. New Jerusalem
1917
Oil on cardboard. 100 x 100

Churches. New Jerusalem was one of a series of works inspired by the New Jerusalem Monastery outside Moscow. A typical example of Aristarkh Lentulov's painterly plastics, it combines rich colours with dynamic and "vortex" forms. The artist smashes the Old Russian architecture into bright fragments decoratively similar to an original mosaic panel; every brushstroke rings out like a piece of smalt. Velimir Khlebnikov noted the revolutionary spirit of Lentulov's art: "Steeples with high apertures bowed, like a man fractured by a stick suddenly stooping and clutching at his stomach or an ear of corn broken in several places ... The storm passed through his painting; one day it will pass through life and will smash many steeples."