Leon Bakst (1866–1924)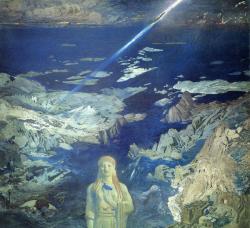 Terror Antiquus
1908
Oil on canvas. 250 x 270

In 1907, Leon Bakst visited Greece in the company of Valentin Serov, sketching the country's ancient monuments and Mediterranean nature and reading the works of her ancient philosophers and writers. This helped to form an image of Greece and Greek culture in his imagination, one both concrete and simultaneously abstract. This duality can be seen in Terror Antiquus, in which the artist uses symbols to express the apocalyptic nature of the modern age. He depicts the destruction of an ancient city and its inhabitants. Bakst scrupulously reproduces a number of ancient edifices — the Lion Gate in Mycenж, the ruins of the palace at Tiryns, and the Athenian Acropolis.

The natural landscape in the picture is a generalisation and also reflects Bakst's study of Hellenic geography. The image of the Archaic kore presiding over the chaos and personifying the inexorable force of human fate is equally concrete and just as abstract.
Although the critics found many faults in Terror Antiquus, Bakst's painting enjoyed great success at the Salon d'Automne in Paris. It was awarded a gold medal at the Exposition Universelle in Brussels in 1910.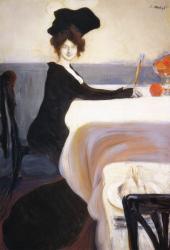 Supper
1902
Oil on canvas. 150 x 100

The prototype for the heroine of Supper was Anna Benois, wife of the artist Alexander Benois. Lйon Bakst does not, however, aspire towards a direct portrait likeness.

The subject is merely a starting point for a typical Art Nouveau image — the femme fatale, with her enigmatic half-smile, sensual feline grace and shapely figure tightly corseted in black. Supper was a scandalous success at the fifth World of Art exhibition, representing Bakst's first major triumph as a virtuoso stylist and future legislator of Parisian fashions.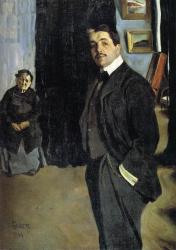 Portrait of Sergei Diaghilev and his Nanny
1906
Oil on canvas. 161 x 116

One of Leon Bakst's most outstanding works of portraiture, Portrait of Sergei Diaghilev and his Nanny is, perhaps, the most famous image of the legendary Russian impresario, who was a close friend of the artist. Diaghilev's slightly fastidious pose, raised eyebrows and appraising glance betray a self-confident and authoritative personality. The figure of the old nanny sitting in the corner was a typical feature of the way of life of the old Russian nobility.
Contrasting the figure of Diaghilev, she offers a clearer insight into the personality of the sitter — a former provincial whose energy and talent helped him to not only conquer the Russian capital, but the whole of Europe as well.

Sergei Pavlovich Diaghilev (1872–1929) was one of the central figures of fin-de-siиcle cultural life in St Petersburg. Before launching the Saisons Russes in Paris, he founded and published the World of Art (Mir iskusstva) magazine (1898–1904), curated a series of important art shows and wrote articles on art and the theatre.